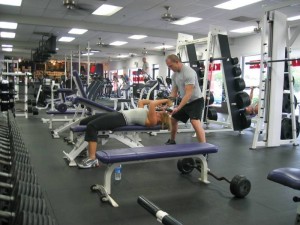 If you are here, you are beginning or continuing your journey to physical fitness.

Subscribe to our Monthly Newsletter


Picking a fitness center, gym, health club, etc. is the most difficult part of that journey and should not be taken lightly. Your choice will be based on price and location but you also should consider equipment, staff, hours and most importantly contract requirements. We will discuss each of these. If you find a gym you are interested in, see if they have a Free Trial. Seven days is common. If they do not offer a Free trial without having to sign an agreement then you need to look elsewhere. A Trial will let you check out the equipment, condition, cleanliness and see if the gym is overcrowded as well as if people are friendly. Hey maybe you won't like the music they play.
You should always check with the Better Business Bureau (bbb.org) and do a Google search for "Gym Name COMPLAINT" and see what you find out. Whatever you learn is to help with your decision but you should always consider everything else. Nearly all gyms will have some complaints. Most often, because people fail to read their contracts. Before you sign make sure you understand all fees. Some health clubs will spring additional fees never before mentioned at contract time. Besides membership there might be enrollment, access card, intitiation, credit check, maintanence or many other fees. No matter what they tell you, not all fitness centers have these fees. Check and compare. Some people will even have a friend call the fitness center and ask to speak to someone about cancelling their membership BEFORE joining. If they get the run-around then you are pretty sure the same will happen later. Read our Membership page for more information.
Check the equipment before you join. Not only for the type of equipment but the condition. If it does not appear to be maintained, there may be safety issues there. It does not have to be new equipment but all require periodic checks and adjustmnents. Read our Equipment page. It will help you identify the equipment you should look for.
If you are new to working out you may want a Personal Trainer to help you in the right direction. Some gyms have personal trainers on-site or can recommend ones that frequent the health club. Seek out only Certified Personal Trainers. The better gyms have staff who can show you how to use the equipment at no additional cost. Ask them before you signup. If you have a trial period ask others working out whether the staff is helpful.
The club should be open the hours you have free to exercise. But you also should schedule your workout at the right hours. If you workout late in the evening it might keep you from sleeping properly. Sleep is a very important part of your exercise regimen. Go to the gym at the time you would normally work out. See if you would feel comfortable surrounded by those people. Being comfortable at the gym of your choice is often a great determining factor in how often a person goes for their workout.
Read our other pages, make a list of questions to ask and a checklist of equipment you need and visit each gym in your area. Do not signup until you have visited each gym and at least had a trial.